25 Sep

SOUTH KOREA, HONG KONG & CHINA TOUR

Leah spent June, July and August of 2010 working on various projects throughout Asia which included the publication of her latest research at the International EMS Conference in Shanghai, China. Her paper, titled "Sonic Dialects: Explorations in Intercultural Electroacoustic Music", argues that intercultural electroacoustic music can provide a framework for collaboration that could contribute to preserving and exposing rich music traditions across the globe. Leah worked on a number of projects in Seoul, South Korea and participated in the Sound+ Pansori Residency produced by Asianow and Paim Communications. This tour culminated with the premiere of Leah's latest project 'Liquid Borders'; a commissioned work for the Hell Hot Music Festival in Hong Kong. Liquid Borders is a response to Hong Kong presented as an ephemeral performance with sounds collected from the city and processed live during the show. The work will be performed in a series of contrasting cities in the future exploring collaborations in an intercultural context.

The Sound+Pansori Residency was at the invitation of AsiaNow and Paim Communications in Seoul, South. The event was designed to bring a diverse group of artists together to explore methods of translating the traditional art form of pansori into a contemporary context. Her initial concept was to draw on the stories and soundscapes of the local community to create an immersive performance with an original pansori performance. The outcomes from the Residency include several new collaborations with international artists and a new work in development with a local pansori company in Seoul.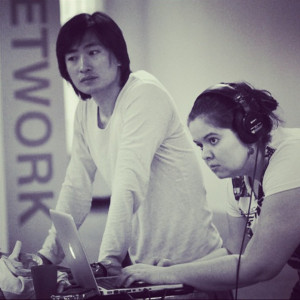 Pansori, which was developed during the Choson Dynasty (1392–1910), is a genre of Korean vocal music involving a percussionist and vocalist. The term pansori is derived from two Korean words: pan, meaning 'a place where many people gather', and sori meaning 'song'. Leah studied pansori during her first residency in Korea and was struck by the relationship this tradition has to the environment. In her initial interviews with percussionist Dong Won Kim they spoke about the intensive training that a performer must undergo to practise the art of pansori. Dong Won's long-term collaborator singer Bae Il-Dong trained in isolation by a raging waterfall for seven years to strengthen his voice. While this may seem like a tremendous commitment, it is common practice among pansori artists, because it is believed that singing in opposition to a waterfall is the ultimate training for a vocalist.