25 Sep

National New Media Award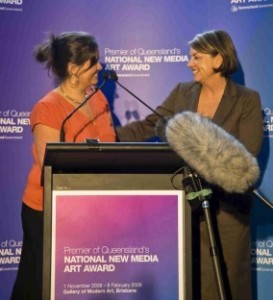 Premier Anna Bligh revealed the recipient of the inaugural Premier of Queensland's National New Media Art Award and Scholarship today. The prestigious biennial award stands as Australia's most significant prize for new media art; a contemporary art practice that reflects the cutting edge, innovative mores espoused by Brisbane's acclaimed Gallery of Modern Art. The judges were pleased to announce Leah Barclay as the recipient of the Premier of Queensland's New Media Scholarship. Barclay's award is valued at $25,000 and will fund a period of international professional development in which the artist will tour internationally in 2009 performing her experimental work.
Premier Bligh said the inception of the award would contribute to Queensland's' standing as a leader in the Australian arts community – despite her initial apprehension. She said that the notion of creating a high profile award for a new media artist as opposed to a "Queensland Archibald Prize" seemed risky at first, but she was later convinced and now couldn't be happier. "The short-listed artists for the inaugural award are some of the most challenging and thought provoking artists in Australia today." Ms Bligh said the Premier of Queensland's National New Media Art Award celebrated the skill and creativity of Australian artists working in challenging and innovative ways with a range of new technologies. "The award underpins my Government's commitment to supporting innovation and creativity in the visual arts and specifically new media, one of the country's most dynamic new art forms." The judges for this year's award and scholarship recipient were – Tony Ellwood, Director, Queensland Art Gallery; Dr Melinda Rackham, Executive Director, Australian Network for Art and Technology; and Liz Hughes, Executive Director, Experimenta Media Arts.