WIRA is an interactive sound installation that reimagines the world beneath the surface of the Noosa River for Floating Land 2015 at the Noosa Regional Gallery in Queensland, Australia. The installation opens on August 27 and runs until October 18. 
WIRA reimagines the Noosa River in sound. The installation can be experienced by walking along the river with a smart phone and listening to content that is geotagged from Noosa Regional Gallery to the river mouth. As you walk along the river bank, the sounds of the Noosa River system are layered with sonic art, stories and soundscapes from Floating Land over the last ten years. 
The theme of Floating Land 2015 is Reflect & Re-imagine. This theme provides an opportunity to pause and reconnect with the grassroots beginnings of this event, exploring the connection between art, the environment and the local community. Now in its 8th iteration, Floating Land is an international event celebrating art and the environment. In 2015 Floating Land will celebrate artworks, artists and locations involved in previous Floating Land events.
To experience WIRA download the free app Recho to your iPhone or iPad and start outside Noosa Regional Gallery (maps are available inside the gallery). The installation is best experienced wearing headphones. 
Step 1. Download the free app Recho to your iphone or ipad and connect your headphones.
Step 2. Walk towards the first sound, your phone will act as a compass and guide you through WIRA.
Step 4. When you approach the first sound it will play automatically, tap the sound once to open it.
Step 5. Wait for 3-5 seconds (to load) and stop to listen to the soundscape.
The entire walk takes about one hour, but you are welcome to experience the installation in sections or return to different locations over the duration of the exhibition. You can start, stop or repeat the soundscape by tapping the middle button on the app. Some sounds are placed further apart to allow you to reflect and listen to the natural sounds of the Noosa River.
The sound map includes the core sounds of the WIRA installation, please note this installation will expand and evolve with new sounds over the course of the exhibition. Contribute your own soundscapes, request a tour, or join a workshop by emailing info@leahbarclay.com. Noosa Regional Gallery has hosted daily workshops at 10:30am from September 1st. The workshops include an introduction to the installation, guided river tour and hydrophone recordings. Please email info@leahbarclay.com to reserve a place in future workshops.  
Android users can also use the app Recho or stream the soundscapes from this website below. Those without access to a smart phone can also listen to the soundscapes inside Noosa Regional Gallery. Share your experiences online with #wira2015 or tweet @LeahBarclay with questions.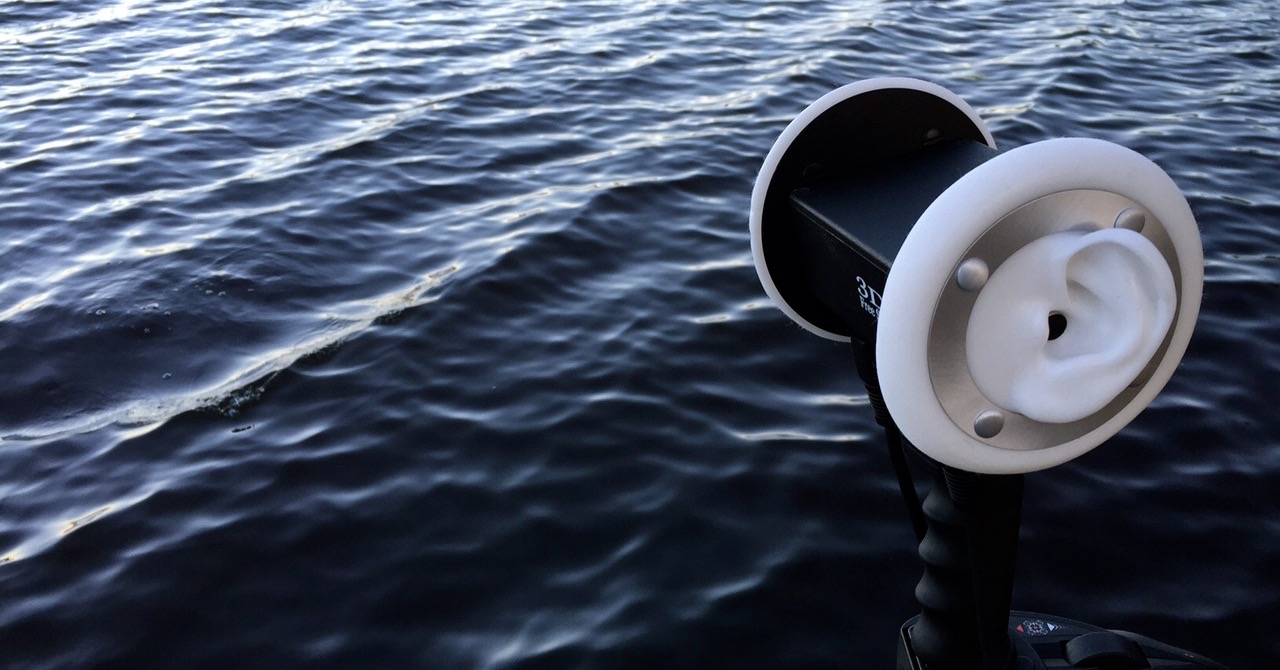 When experiencing WIRA on location, these geo-located soundscapes are layered with binaural and hydrophone (underwater) recordings and live streams of the Noosa River. These recordings and streams will evolve and adapt based on the conditions of the Noosa River meaning every walk will be a unique experience. 

All the sound featured in WIRA have been composed, recorded and produced by Leah Barclay unless otherwise stated. The GPS coordinates provided enable you to go directly to specific soundscapes. 
1. Welcome to Country (2011)    1:17    -26.392267, 153.041066
Lyndon Davis and Gubbi Gubbi Dance on the banks of the Noosa River.
2. Bell Birds (2009)    0:56   -26.392101, 153.041198
3. Sunrise (2011)    0:50   -26.391835, 153.040884
4.  Lightly Treading (2009)    1:12   -26.391570, 153.040605
Lyndon Davis talking about the Noosa River. 
5. Aka (2009)    1:01   -26.392459, 153.041351
Eric Natuoivi chanting as the Floating Land team moved Aka's sculpture into the Water
6. Blue Gold Irrigation (2011)    1:11   -26.392940, 153.041334
Fragments from Ros Bandt's Blue Gold performance 
7. Wanjana Sculpture (2009)    1:10   -26.393197, 153.041670
Playing Steve Weiss's Wanjana sculpture with live processing  
8. Harbour Ripples (2013)    1:05   -26.393465, 153.041870
9. Water Rhythms (2009)    1:23   -26.394312, 153.041543
10. Voices of the Biosphere (2011)    1:30   -26.394626, 153.042234
11. River Listening (2015)    1:14   -26.395040, 153.041872
Exploring the art and science of listening to rivers with River Listening
12. Snapping Shrimp (2015)    1:32   -26.395526, 153.042211
13. Waiata (2011)    1:22   -26.395744, 153.043241
Collaboration with Jo Tito  
14. Sustainability (2011)    0:44   -26.396024, 153.044533
Stephanie Haslam talking about sustainability in the Noosa Biosphere Reserve. 
15. Irrigation Channel (2011)    1:10   -26.396290, 153.045901
Fragments from Ros Bandt's Blue Gold performance  
16. River Reflections (2009)    0:49   -26.396530, 153.047075
 17. Erosion Prelude (2011)    0:59   -26.396676, 153.048308
Fragments from Ros Bandt's Blue Gold performance (Richard Haynes on clarinet) 
18. Erosion Elegy (2011)    1:26   -26.396862, 153.049229
Fragments from Ros Bandt's Blue Gold performance (Louise King on Cello & Richard Haynes on clarinet)  
19. Voices from India (2013)    1:15   -26.398154, 153.053623
Prelude soundscapes created for The DAM(N) Project performance. 
20. Narmada Children (2013)    1:16   -26.397351, 153.053847
The voices of children I recorded in the Narmada Valley of North India for the The DAM(N) Project score 
21. Submergence (2013)    1:04   -26.397267, 153.054388
The voice of Shrikanth, an activist with the Narmada Bachao Andolan in North India
22. Nautical Channel (2013)    1:11   -26.398207, 153.054758
Hydrophones deep in the Noosa River 
23. Ship of Fools (2013)    1:26   -26.397452, 153.056148
Fragments of the song that accompanied Ship of Fools by James Muller, Kris Martin and Simon McVerry.
24. Burning Kilns (2011)    1:04   -26.397551, 153.056748
25. Rainwire Sonification (2013)    1:00   -26.397670, 153.057368
David Burraston and Sarah Last's Rainwire art-science collaboration 
26. Brainwave Sonification (2011)    1:00   -26.397739, 153.057786
The sound of Samson Young's brainwaves as he focused on the lake for his installation Signal Path 
27. Horizon (2009)    0:50    -26.397793, 153.058282
28. Lake Birds (2005)    1:10   -26.397779, 153.058951
29. Mud Crabs (2011)    1:06    -26.397793, 153.059580
Lyndon Davis talking about the Noosa River. 
30. Noosa Everglades (2011)    1:00   -26.397869, 153.060116
31. Writers House (2009)    1:12   -26.397817, 153.061543
32. Shimmering Clay (2011)    1:04   -26.397788, 153.062077
33. Noosa Storm (2011)    1:13   -26.397612, 153.062838 
34. The Firings (2009)    1:14   -26.397317, 153.063493
35. Apollonian (2009)    1:00   -26.396684, 153.065877 
36. Eric Natuoivi (2009)    1:17   -26.396148, 153.067352 
37. Communities Connecting (2009)   1:11   -26.395673, 153.068898
38. Vanuatu Water Music (2013)    1:04   -26.395185, 153.070194
The mesmerizing sounds of Vanuatu Women's Water Music 
39. Dawn Harmonies (2013)    0:50   -26.394720, 153.071143
Leweton Cultural Group from Santo, Vanuatu singing at dawn over Lake Cootharaba
40. Dolphins (2013)    1:04   -26.394594, 153.071437
Hydrophone recordings of a pod of dolphins 
WIRA was commissioned by Noosa Council for Floating Land 2015. The technology and concept for WIRA was developed through Leah Barclay's Synapse Residency River Listening. This residency was supported by the Australian Network for Art and Technology and The Australian Rivers Institute in association with the Australian Government through the Australia Council for the Arts, its arts funding and advisory body. Further information on River Listening is available here www.riverlistening.com