In 2007 Leah Barclay began a collaboration with Ghostboy (David Stavanger) to create a series of performances and recorded compositions setting poetry to electroacoustic music. After a series of short works, their collaboration WRAITH was published by Going Down Swinging #25 edited by Steve Grimwade and Lisa Greenaway.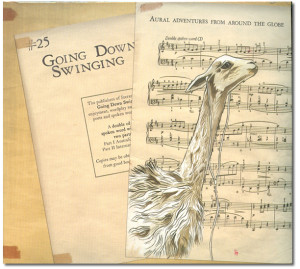 "#25 was a stand-out issue ofGoing Down Swinging. No book, but a double-CD spoken word edition. The artefact, though, is one you need to have and hold, with the most beautiful illustrations by esteemed Melbourne artist Tai Snaith decorating front cover, back cover, and the entire span of the insert booklet. Tai's detailed and charismatic animal figures are rendered painstakingly with ink and paint onto old sheet music, playing with the staves and notes. Ten of her original illustrations are reproduced throughout, along with information on the double disc compilation contained within."
Contributors include Canadians Ian Ferrier and Victoria Stanton, Cooknkitch, Zenobia Frost, future GDS editor Klare Lanson, and the dreamy, hypnotic, all-too-short-lived musical verse collaboration of Sean M. Whelan and the Mime Set. Published 2007.
David Stavanger – aka Ghostboy – is the Dr Jekyll & Mr Hyde of Australian poetry. David's poetry has been widely published in the likes of FourW, foame:e, Going Down Swinging and The Spoken Word Revolution: Redux (USA). His new collection of poetry And the Ringmaster Said… was released by Small Change Press in 2008.Ghostboy won the Performance Poetry World Cup (2005) establishing him as one of Australia's most innovative spoken "weird" artists.
He has been QLD's "slammaster" since 2005 coordinating two of the nations biggest slam events in the Australian Poetry Slam (Queensland) and the WordFood slam at the Woodford Folk Festival. Ghostboy also fronts punk kabaret act 'Ghostboy with Golden Virtues' and has performed his work on ABC & Triple J radio. Festivals featured at include the Brisbane Writers Festival, Byron Bay Writers Festival, Tasmanian Poetry Festival, and 'NightWords' at the Sydney Opera House. 
Listen to Wraith on ReverbNation