'Distill' is an immersive performance composed by Leah Barclay for mixed voices and live electronics commissioned by The Australian Voices. The composition is based on Leah Barclay's Amazon field recordings completed during the Mamori Sound Residency in Brazil in November 2011.
Distill was premiered during the 2014 Waterwheel World Water Day Symposium hosted by Ear to the Earth in New York City as a telematic performance with The Australian Voices performing live in Brisbane and Leah Barclay live in New York City.
WATERWHEEL WORLD WATER DAY SYMPOSIUM 2014
17- 22 March 2014
In March over 200 scientists, academics, artists, architects, urbanists, engineers and activists from 30 countries will come together for the 2014 World Water Day Symposium.
As an element, water embodies extremes and contrasts: oceanic depth or shallow rivulet, transparent or opaque, flowing or still. Water cycles through the living systems of the planet: water bodies, life forms, atmosphere. Climate change has produced global water extremes in terms of sea level rise, polar ice disappearance, floods, droughts and desertification. Is water a shared resource or a commodity that is bought, sold, owned and wasted? While we might not all share the same perception of water, exploring deeper connections to it may facilitate a greater understanding of how our collective views have influenced actions and decisions about water.
3WDS14 will explore questions about how we are living, and will continue to live, with water and its contrasts. There is a demand for new perceptions and approaches to water management, urban planning, and cooperation, as well as for a renewed respect for water as a vital resource and shared heritage.
The event will be streamed live across 15 nodes in Brisbane, San Francisco, New York, LA, Buenos Aires, Tunis, Berlin, Coburg, Poznan, Torun, Paris, Syracuse, Athens, Hydra and Cairns.
The New York node is produced by Ear to the Earth, featuring a series of international performances inspired by water. Ear to the Earth is a worldwide network for environmental sound art based in New York City. The works will feature field recordings from rural lakes in Australia, the depths of the Indian ocean and the sounds of cracking ice in the Arctic in addition to performances from leading musicians from across the world.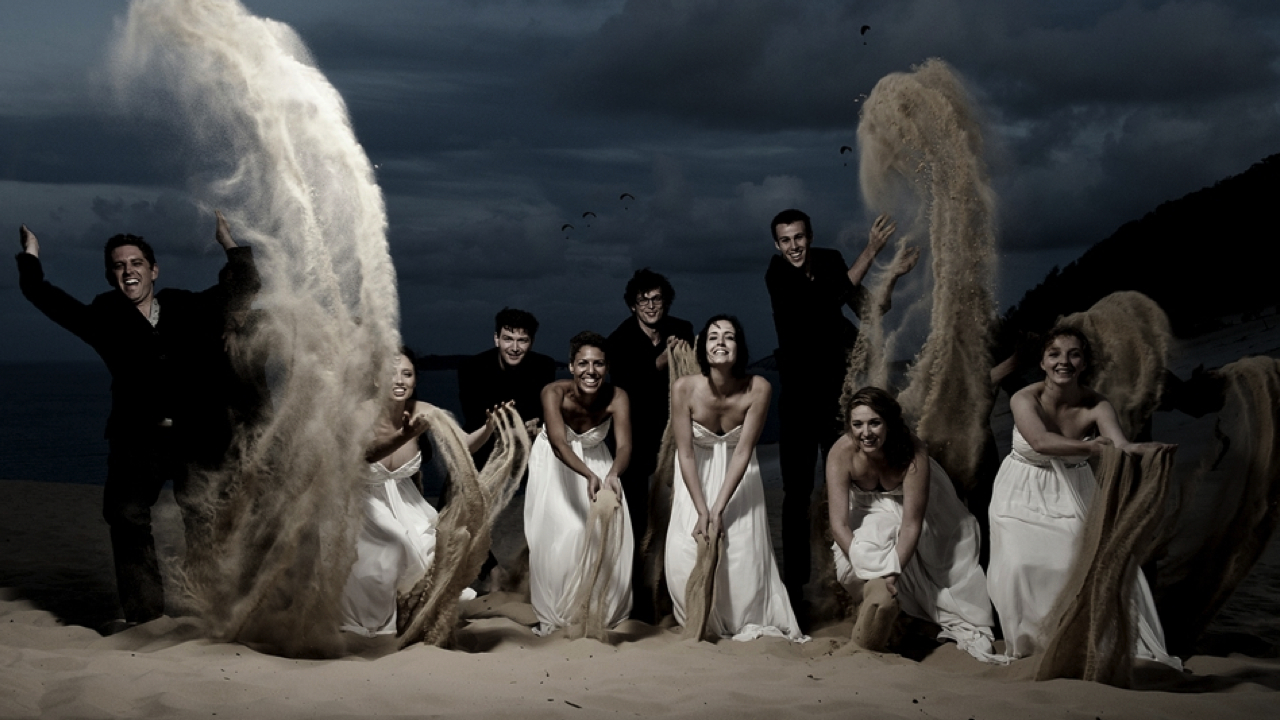 The Australian Voices
The mission of The Australian Voices is to commission, perform, record and promote the music of Australian composers to the highest international artistic standards.
The Australian Voices are singers selected from all over Australia. A gold-medal winning choir with several YouTube hits to their name, they continue to surprise audiences around the world with their vocal acrobatics. Directed by Gordon Hamilton, their recent hits The 9 Cutest Things That Ever Happened, The Facebook Song and We Apologise contrast with their beautiful renditions of sacred repertoire by composers like Rachmaninoff and choral-theatre works like MOON (receiving 5-stars at Edinburgh Fringe Festival 2012). Comfortable in a wide range of genres, their recent commissions include Kalkadunga which combines didgeridoo rhythm that are tens of thousands of years old with overtone singing (where one singer produces two notes at the same time).
The Australian Voices are represented by Musica Viva, Warner Classics and Edition Peters Artist Management.
Since 1993, The Australian Voices have championed an astonishing flourish of new Australian vocal music, having commissioned hundreds of new works. Much of this new music captures vividly the vibrant sound, colour, and energy of the Australian continent and its people. This vocal ensemble has been recognised by many international awards and honours as one of the finest of its type in the world.
The Australian Voices have toured internationally many times, participating in major events in the U.K, the U.S.A., Bosnia, Canada, Guatemala, France, Germany, Austria, Belgium, Spain, Hungary, the Czech Republic, Poland, Croatia, New Zealand, Malaysia, China, Taiwan, Singapore and Korea. The Australian Voices have shared stages with some of the great musicians of the world including Jose Carreras, Bobby McFerrin and Evelyn Glennie.
Artistic Director and Conductor of The Australian Voices, Gordon Hamilton was born in Newcastle and, having lived and worked for five years in Germany as a conductor and composer, now resides in Brisbane.