Dot Enter was commissio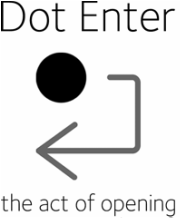 ned as the opening ceremony of the 5th IMC World Forum on Music in Brisbane, 21-24 November 2013 by Queensland Conservatorium Research Centre, Griffith University in collaboration with Pentacon, a group of conservatoires and schools of music exploring approaches to higher music education in the 21st century:
Royal Conservatoire, The Hague
Schulich School of Music McGill University, Montreal
Sibelius Academy, Helsinki
Guildhall School of Music and Drama, London
Queensland Conservatorium Griffith University, Brisbane
"An act of opening implies that there is a form, which has to be opened up in order to optimally reveal its inner character. The opening provides the opportunity to enter the form. The act can be seen as a movement through the spatio temporal borders of the form. Combined they provide the opportunity for transitioning from an outside state of being to an inside state of being.
Dot Enter explores the act of opening itself. Questioning the character of the to be opened form, deconstructing the apparent border, searching for different entries, moving from one perspective on the act to the other. And seeks to portray coexisting visions on the traditional act of opening."
Ten top talents from five different conservatories around the world joined together to officially open the 5th IMC World Forum on Music in Brisbane. The musicians worked with directors Gosse de Kort and Vanessa Tomlinson during an intense workshop to develop ideas and concepts before focusing their attention on-site to re-arrange, compose and edit the material according to the space where the piece will be presented. For this dedicated, one-off, open-air opening performance, the musicians used the stages, stairs, balconies and terraces of the Parklands entrance of Queensland Conservatorium as their stage. Leah Barclay worked with the directors in composing electroacoustic material to weave the site-specific compositions together. Leah also performed live during the opening, mixing the overall performance with live electronics and electroacoustic textures to transform South Bank Parklands into an immersive sonic environment.
Preview of Dot Enter Performance
Behind the scenes – part one
Behind the scenes – part two