Uruvam is a commissioned work from Attakkalari Centre for Movement Arts, India's leading international contemporary dance company. The work is choreographed and directed by Hemabharathy Palani, a prominent figure in the contemporary dance scene who was awarded the British Robert Bosch Choreography Award to develop Uruvam in 2010.
'Uruvam' (meaning form), is inspired by the mythological character of Ambe from the Mahabharatha and is about the osmosis of genders and sexuality. The work weaves mythological stories, personal experiences and inputs from psychologists and experts to create a multi-sensory experience that transcends time and place.
Leah Barclay was commissioned to create an original score that mirrored the challenging stories with her distinctive sonic language. The translation of many of the thematic concepts into sound was a complex process, with sound materials alluding to ceremonies in the eunuch community. These include dramatic castrations involving breaking bangles, that are inappropriate to reproduce out of context. Therefore, all materials were recorded on location, many with the Hijra community of Bangalore in close consultation with the choreographer. The Hijra are recognised as the third sex of India and are renowned for their ritual clapping which is used to either bless someone, or cast misfortune. The concept of mirrors was also an important theme with many sounds experiencing transformed mirrored reflections in the layered electroacoustic soundscape. This draws extensively on the ideas of reflections in classical Indian dance forms such as the Theyyam in Kerala. The Uruvam score features a collaboration with Hindustani vocalist Sumathi Murthy. The other source material included environmental field recordings from significant sites throughout idea. 
This piece premiered on June 12th 2010 at Alliance Francaise de Bangalore for Robert Bosch Young Choreographers Award Evening. It has since toured internationally including multiple performances throughout Europe and Asia. 
Please visit www.attakkalari.org for current tour dates.
Duration: 22 minutes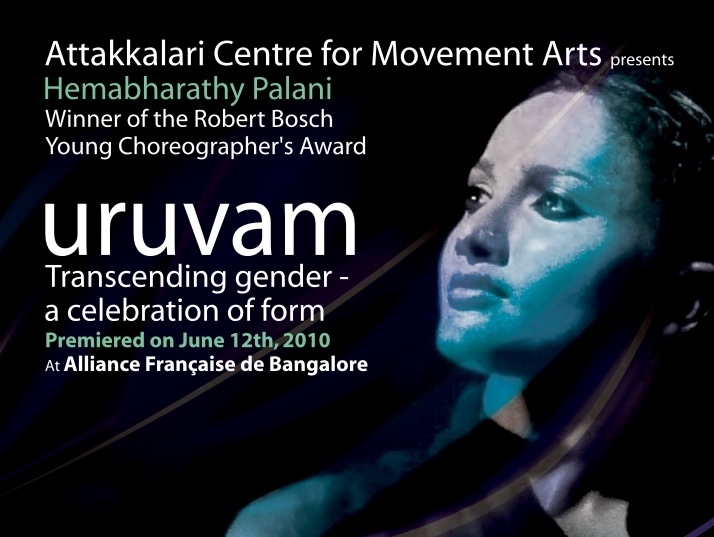 Performance: Hemabharathy Palani
Music Composition: Leah Barclay
Vocals: Sumathi Murthy
Light Design: K.R.Nandakishore
Set Design: Arun Sagar
Digital Design: Kunihiko Matsuo ( Japan)
Interactive Projection: Shymon Chelad
Video Documentation: Tahire Lal
Costume: Sonali and Himanshu of Hidden Harmony